Raleigh Comprehensive & Cosmetic Dentistry is SHARP Certified
Dental practices should be safe places for everyone from the employees to the patients. At Raleigh Comprehensive & Cosmetic Dentistry, we firmly believe in this principle, which is why we have been recognized and awarded SHARP certification from the NC Department of Labor. SHARP stands for the Safety & Health Achievement Recognition Program. To achieve recognition via this program, small to medium-sized businesses must meet very rigorous workplace safety requirements, setting the benchmark for level of care. We went through the certification process with confidence because we've always been committed to providing excellent services with a focus on safety. Our capable, qualified staff and high level of care enabled us to become one of only two medical or dental offices in the entire state to earn this distinction.
The Path to Recognition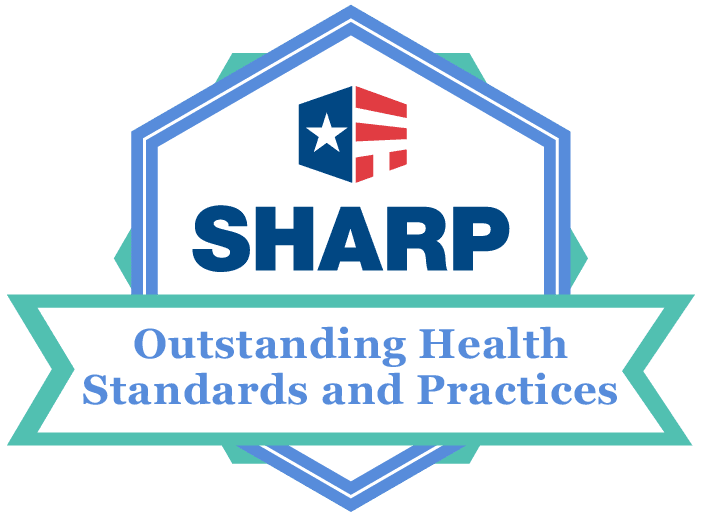 In order to gain our SHARP status, we were asked to meet all of the following requirements:
Creating and utilizing safety and health programs that exceed the Occupational Safety and Health Administration's guidelines for dental and medical practices.
Keeping our Days Away, Restricted, or Transferred rate and Total Case Incident Rate below our industry's national average which means meeting our target of zero.
Developing a comprehensive plan for notifying and working with the dental/medical staff on any new working conditions and requirements before they are implemented to ensure the highest levels of performance.
For some businesses, these requirements may prove challenging. For us, they simply represented what we were already doing to keep our patients and staff safe. Superior care has always been of the utmost importance to us, and we now have the certification to prove it.
Why Certification Matters
Our SHARP recognition is like a "seal of approval," letting patients know that they're in good hands when they walk through our doors. By protecting our professionals and building a safe, positive workplace, we ensure our patients get quality treatment at every visit. Additionally, our SHARP status helps us attract some of the most skilled and qualified professionals in the industry, further improving the level of patient care. When patients choose us, they choose an eminent dental practice that has been recognized for its dedication and the caliber of its care, one that not only sets the standard for excellence, but encourages others to do the same.
Learn More
Our status as a SHARP certified dental office simply validates the superb standards we've always held ourselves to. It proves that we are committed to going above and beyond for our staff and patients. If you would like to experience this level of care firsthand, we invite you to contact us.