How Long After Teeth Cleaning Can I Eat?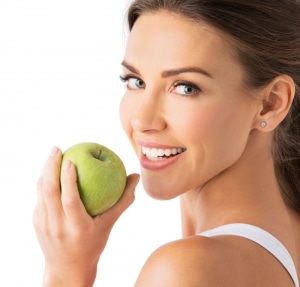 The American Dental Association (ADA) recommends getting your teeth cleaned twice a year to obtain better oral health. Getting your teeth cleaned also gives your dentist the opportunity to screen for gum disease, oral cancer and any other infections or lesions all while removing plaque and tartar with professional grade instruments that leave your mouth clean and healthy.
Many people wonder how long they have to wait after getting their teeth cleaned before it is ok to eat. The answer depends on whether or not a fluoride treatment was included in your dental cleaning procedure and what foods you're expecting to ingest.
If you didn't have a fluoride treatment then you're safe to eat immediately after your cleaning. However, it is recommended that you only eat soft foods. Bananas, yogurt, applesauce, soups or hard boiled eggs are all good options.
Avoid extremely hot or cold foods as well as anything sticky or crunchy since it is common to experience some sensitivity after a teeth cleaning.
Spicy foods, sugary drinks and high acidic foods can also be harsh on your mouth. You should wait a while before consuming these types of foods.
If you did receive a fluoride treatment during your cleaning, dentists recommend waiting at least half an hour before eating. This gives the treatment enough time to seal around your teeth. Waiting will ensure you're getting the full advantage of the fluoride treatment.
Getting your teeth cleaned is an excellent way to maintain your oral health. It also allows you to detect and prevent problems early on. Having your dentist catch any issues that may have gone unnoticed will prevent early decay, cavities, gum disease, and more – all while getting your teeth in good shape and leaving you with a fresh and clean mouth.
Schedule your appointment at least once a year to give your teeth the attention they deserve.
https://www.raleighdentist.com/wp-content/uploads/2018/11/RCCD-happy-man-ok-sign-hand-holding-green-apple.jpg
809
1297
admin
https://www.raleighdentist.com/wp-content/uploads/2019/11/logo_rccd.jpg
admin
2018-11-12 10:35:43
2021-04-26 12:49:28
How Long After Teeth Cleaning Can I Eat?