How Often Should You Change Your Toothbrush?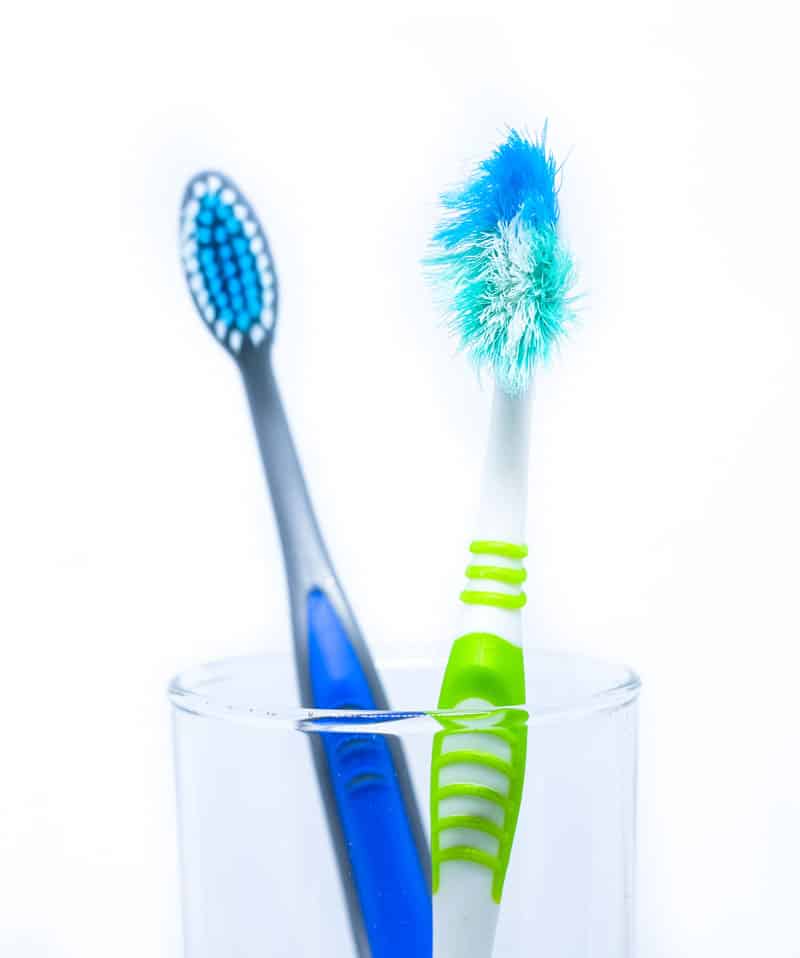 Your toothbrush is your first line of defense in the prevention of plaque and bacterial growth. Taking proper care and replacing your toothbrush when needed will help you maintain your oral health. This applies equally to toothbrush heads on electric toothbrushes.  
Your toothbrush should be changed whenever it becomes worn or frayed. This can change depending on the amount of use, but generally should be done about every three months. If you are using your toothbrush at least twice a day, it is likely you it will need to replace it within this time period.
Many people believe they can use their toothbrush for longer than the recommended amount of time, but this can have negative consequences. You may not be receiving the same quality of cleaning as you would with a new toothbrush or toothbrush head.
It is always recommended that you err on the side of caution when it comes to replacing your toothbrush or toothbrush head. Here are a few reasons it is important to ensure you replace your toothbrush or toothbrush head every 3 months.
Reasons to Change Your Toothbrush
It May Not be as Effective
When a toothbrush becomes worn or frayed it is no longer as effective. New toothbrushes are better able to remove plaque and bacteria that form on the teeth and gums. The worn or frayed bristles are not as capable of getting in and along the gum line where bacteria begins to form.
It May Damage Your Gums
When a toothbrush begins to wear down, the bristles may begin to split and form shaper points that can damage gums. This can cause your gums to be more susceptible to infection. A new toothbrush or toothbrush head will be softer on your gums while still providing the level of cleaning you need.
Bacterial growth
When your toothbrush has been used for an extended period of time, it becomes susceptible to bacterial growth. Most toothbrushes are kept in the bathroom which can be a hotbed for bacteria. With regular replacements, you reduce your chances of being exposed to harmful bacteria that may grow on your toothbrush head.
Storage Tips
Making sure your store your toothbrush properly is also very important. Proper storage can help reduce bacterial growth and cross contamination. The first step in toothbrush care is to always thoroughly rinse your toothbrush after use. This helps reduce any left-over residue and bacteria that may remain after usage.
You should always ensure your toothbrush is left in the upright position in order to dry. When a toothbrush is wet, it creates an environment for bacterial growth. You should also avoid toothbrush head caps or leaving your toothbrush in travel bags that don't allow them to dry quickly.
If you have more questions about how often to replace your toothbrush or would like to setup a consultation, contact Raleigh Comprehensive and Cosmetic Dentistry today. We have the experience and expertise to help you maintain your healthy smile.
https://www.raleighdentist.com/wp-content/uploads/2019/10/when-to-change-tb-blog.jpg
667
1000
admin
https://www.raleighdentist.com/wp-content/uploads/2019/11/logo_rccd.jpg
admin
2019-10-15 09:00:52
2021-04-23 19:03:06
How Often Should You Change Your Toothbrush?