Effective Dental Hygiene Habits
Proper dental hygiene is important for your overall health. Gum disease, tooth decay, and oral infections can lead to serious health issues. Poor dental hygiene can also cause bad breath and tooth discoloration. The key to great dental hygiene is establishing good habits. Long-term proper dental hygiene can keep your teeth healthy and bright throughout your life. Some of the most fundamental dental hygiene habits are: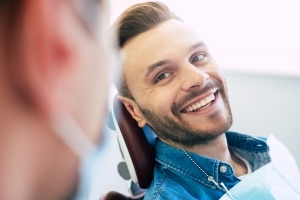 Brushing
Brushing your teeth may be the most important part of your dental hygiene routine. The ADA recommends you brush twice a day using an ADA-accepted fluoride toothpaste. Fluoride can strengthen enamel, Increase your resistant to tooth decay, and reduce the amount of acid the bacteria on your teeth produce. It is also important to ensure you're brushing correctly. You should be using a soft-bristle toothbrush which should be replaced every 3-4 months, or earlier if the bristles become frayed. The head of your brush should be at a 45-degree angle and make contact with the teeth and gums. Brushing your tongue and roof of your mouth can reduce bacteria and help prevent bad breath.
Cleaning between your teeth
Cleaning between your teeth helps strengthen gums and reduces plaque that brushing may miss. It is recommended you clean between your teeth daily. While some people may have adverse feelings towards flossing, there are alternatives. The most common way for people to clean between their teeth is flossing, but interdental brushes, oral irrigators, and picks can also be effective. Speak to your dentist to discuss what will work best for you.
Healthy lifestyle choices
Your lifestyle choices play a role in your dental hygiene. There are a couple of basic lifestyle choices that can help improve your oral health. Maintain a healthy diet with limited sugary food and drinks. This can help you avoid tooth decay. Also, avoid using tobacco products. This includes cigars, cigarettes, pipes, and smokeless tobacco products.
Regular visits to your dentist
Making regular visits to the dentist is the cornerstone to proper dental hygiene. The regularity of visits depends on your potential risks, but in general, twice a year is recommended. Dentists can give your teeth a deeper clean and check for potential problem areas. Raleigh Comprehensive and Cosmetic Dentistry can assist you in all of your dental needs. We have a long history of providing quality service to Raleigh and the surrounding areas. Feel free to contact Raleigh Comprehensive and Cosmetic Dentistry if you would like more information about dental hygiene or need to set up an appointment.
https://www.raleighdentist.com/wp-content/uploads/2019/08/RCCD-woman-brushing-teeth-electrical-toothbrush.jpg
630
1200
admin
https://www.raleighdentist.com/wp-content/uploads/2019/11/logo_rccd.jpg
admin
2019-08-14 09:10:39
2021-04-23 19:07:19
Effective Dental Hygiene Habits