Tips for Keeping Your Gums Healthy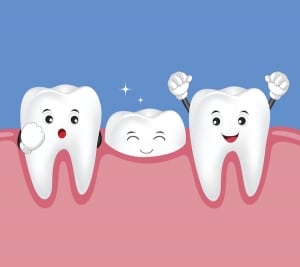 Why is it Important to Keep Your Gums Healthy?
Total oral hygiene, including healthy gums, can have a major effect on your overall health. Studies have shown that poor oral hygiene can have a negative effect on organs like your heart and lungs. Healthy oral hygiene practices can even help reduce your chance of getting heart disease.
Poor gum health can also lead to tooth loss which can, in turn, lead to poor nutrition. Therefore it's common sense that maintaining proper oral hygiene and healthy gums should be considered essential to everyone's healthcare regime.
7 Tips for Keeping Your Gums Healthy
Floss or use an interdental cleaner every day
Flossing or using an interdental cleaner daily can help remove plaque and food particles that brushing may miss. Some people may not like the feel of floss, but there are alternatives. Picks and interdental brushes can provide another way to clean between the teeth and are safe to use every day.
Brush twice a day
Proper gum care starts with a regular brushing routine that includes brushing the gums. Brushing twice a day helps remove plaque and bacteria that build up on teeth and gums. Brushing twice a day with a soft-bristled toothbrush and a fluoride toothpaste can help keep your gums healthy.
Replace worn out toothbrushes
Toothbrushes should be replaced every 3-4 months or when the bristles become frayed. Worn toothbrushes can damage your gums and leave them susceptible to gingivitis and gum disease. The bristles of any new toothbrush you buy should be soft enough not to damage the gums or the enamel of your teeth.
Maintain a proper diet
Eating healthy is great for your overall health and the health of your gums. Try to avoid sugary foods and drinks. Also, avoid late-night snacks after you have already brushed your teeth. When combined with a healthy diet, fruits that are high in fiber may help to slow the progression of oral diseases.
Use mouthwash
Using an antiseptic mouthwash helps remove bacteria from your teeth, gums, and mouth. This will help improve your oral hygiene and fight bad breath.
Avoid smoking and tobacco use
Tobacco use can have a detrimental effect on your oral health. Tobacco dries out your mouth and increases the build-up of plaque. Smokers have a much higher rate of oral disease than non-smokers.
Visit your dentist regularly
While home care is very important, it is also essential to visit your dentist regularly. The experts at Raleigh Comprehensive and Cosmetic Dentistry can help identify problems that may go unnoticed by the untrained eye. We can also help catch problems before they become more serious issues.
It is generally recommended that you see your dentist twice a year, but more frequent visits may be recommended if you have certain risk factors.
Schedule an Appointment for More Information
The doctors at Raleigh Comprehensive and Cosmetic Dentistry are highly trained in a wide variety of dental procedures. These include, but are not limited to cosmetic, comprehensive, and implant dentistry. If you have any questions about our services or want more information, feel free to contact Raleigh Comprehensive and Cosmetic Dentistry today.
https://www.raleighdentist.com/wp-content/uploads/2018/12/woman-senior-gums-teeth-smile.jpg
667
1000
admin
https://www.raleighdentist.com/wp-content/uploads/2019/11/logo_rccd.jpg
admin
2019-09-01 09:00:30
2021-04-23 19:04:18
Tips for Keeping Your Gums Healthy